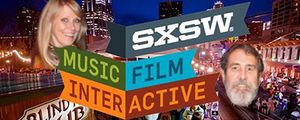 If you happen to find yourself in Austin Texas next week for one of the most famous music festivals on the planet - South X Southwest - be sure and drop by and see Bliss Hippy play a couple of tunes during the week. We'll be at the famous Threadgill's as part of the Handshake Management Showcase on Thursday, March 19 from 2:45 - 3pm and we'll be playing at the very cool Barton Creek Farmer's Market showcase on Saturday, March 21 from 9:30 - 10:05am. The Handshake Management Showcase goes from 11am - 7pm and there's lots of other great musicians playing, including our buddy and outstanding singer/songwriter Mick Byrd from just down the road in Vienna, MO. The Barton Creek Farmer's Market showcase goes from 9am - 2pm and also has many outstanding musicians including our buddies and another great duo The Better Halves, who host the showcase.

We'll also be hanging out at New World Deli on Friday 20th with other musicians and friends.

Please stop by to see us play a couple of tunes, or just say hi, or both.