Musical Dharma Talks and Retreats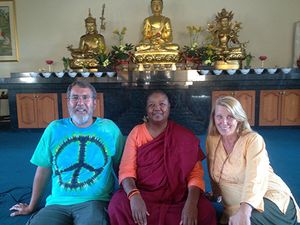 Bliss Hippy offers:
* Dharma Concerts, an evening of  song, celebration and meditation. These powerful gatherings offer a joyful path to centering in turbulent times, with messages that empower personal transformation and encourage the unlimited possibilities of an expansive heart.
* Musical Dharma talks and full day retreats (lead by Maureen Hall and supported by Bliss Hippy music). These focus on mindfulness, from a Buddhist perspective and songs are integrated throughout the talks as a way of emphasizing the principles being presented. Maureen's Dharma talks focus on the Four Bramaviharas, Mindfulness and Non-Dualism.

Maureen has taught and practiced mindfulness based Buddhist meditation for over a decade including:
Mindfulness Based Stress Reduction (MBSR) in Mind-Body Medicine Certification with Jon Kabat-Zinn and Saki Santorelli from the Continuing Education Department at Omega Institute. More info on MBSR at Center for Mindfulness at the University of Massachusetts Medical School
Completion of the two-year Community Dharma Leader (CDL) program from Spirit Rock Meditation Center in Woodacre California
On-going participation in the Dharmacharya Program taught by Venerable Pannavati and Venerable Pannadipa, co-abbots at Embracing Simplicity Hermitage in Hendersonville, NC.
Teaching MBSR at Missouri University of Science and Technology as part of  The University of Missouri System's wellness program.
Taught MBSR for the Center for Integrative Medicine in Springfield, MO in 2006 and 2008.
Teaching many students individually, currently serving as the principal mentor for three students, and leading a sitting group in Rolla, MO weekly.
Traveling to India twice in the last two years to provide musical, physical, and spiritual support for the Venerable Pannavati's mission to help India's "Untouchables"
Serving as "Dharma Troubadours" providing musical support for meditation retreats lead by the Venerable Pannavati.
Richard, who has practiced Buddhist meditation for over a decade, and is also certified through the Omega MBSR program, often joins with Maureen to provide music that punctuates the Dharmic principles throughout the talks and retreats.
More details on Maureen's Dharma story and Bliss Hippy's Musical Dharma
.