The Bliss Hippy Story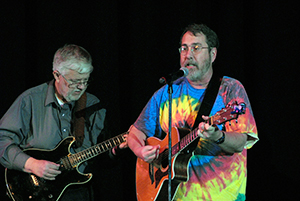 Richard and Maureen Hall are the Americana/Folk duo Bliss Hippy. They each perform as a solo from time to time, they occasionally
perform with other players in band format but mostly you will find them performing as the duo Bliss Hippy.
2016 - Along with their new tradition of touring each summer Bliss Hippy has begun their pay-it-forward effort of supporting touring musician friends with a place to stay and possible paying gigs while they are coming through the Rolla MO area. Another exciting development in 2016 was the very first house concert hosted at the Bliss Hippy home, featuring Flagship Romance. What a show!!!!  They are intending to host 4 house concerts each year. Finally, this year they expanded the Folk Alliance experience to include the Bliss Hippy Room (private showcase) at FAI.
2015 - Maureen retired from her career as a chiropractor but still provides Energy Healing Sessions at their home as well as for folks while out on tour thus allowing Bliss Hippy to play more and more regional shows in Missouri, as well as touring from April until August covering 12 states from California to Maine.
They have greatly enjoyed playing private showcases at the Southwest (SWRFA), Midwest (FARM), and Folk Alliance International (FAI) Conferences. This year they actually hosted a private showcase room at FARM in an effort to give other players an opportunity to showcase their tunes.
2014 - Bliss Hippy raised the bar significantly. The band embarked on their first national tour in the summer of 2014 including Texas, California, and Washington. They also returned to the studio to record their third album "The Tao of Bliss" released in May 2014. While this album also includes the support of familiar Bliss Hippy friends (Joe Dunlap, Josh Goodridge, Luce Myers, Richie Myers, and Peter Price), there are a number of songs performed by the duo alone. In addition, this third album greatly benefited from the creative work of sound engineer and musician Wil Reeves and his Centro Cellar Studio in Columbia, MO. In addition to his work as sound engineer, Wil Reeves, provided creative and musical support in the production of the album. Again, the album represents the band's dualistic nature with inspiring anthems such as "Miracle," to irreverent classics such as "Grab and Beer", "I Ain't Dead", and "Grandpa's Pants."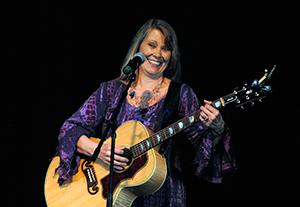 2013 - By popular demand, Bliss Hippy found themselves back in the studio for the first time in 19 years with a whole new set of original songs, which resulted in the release of their second album "Bliss with an Attitude". While still acoustically focused, the musical intensity grew, largely due to the amazing electrical guitar stylings of Joe Dunlap as well as the solid rhythm provided by bassist Tristan Dunlap and Josh Goodridge on Djembe and a variety of other percussion instruments. Once again Luce and Richie Myers made special appearances on the album, along with bowed bass played by Peter Price. Though the duo's song writing has matured, the general sublime and silly river stills runs through it from "All that really matters" and "Believe" representing the sublime to "Dog Fur" and "Drinking with Jesus", representing something else. "Drinking with Jesus" was a top five song in the "special" category of the Great American Song Contest. The other award winner – top five in the Americana category is -  the band's popular anthem "God's for Everybody." The album also includes a novel and driving cover of Woody Guthrie's "This Land is Your Land" emphasizing the last two, rarely heard verses, and even some hillbilly Hindu in the southern gospel song based on a Hindu Puja "Sri Ram Jai Ram".
2012 - Maureen began playing as a "Dharma Troubadour " and traveling with her meditation mentor, Venerable Pannavati ( http://www.pannavati.org ). Since then Bliss Hippy has become more and more involved in inspirational music playing for Quaker events, Unitarian Universalist Fellowships services and special concerts, Buddhist retreats, Jewish Synagogues and playing Festivals and House Concerts wherever invited.
The band took a musical hiatus for several years while Maureen was in school to become a Doctor of Chiropractic with a specialty in Acupuncture and Energy Healing, but they began to write, sing, and perform with conviction again in 2011.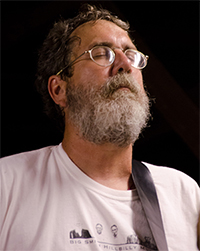 1994 - Shortly after their marriage Richard and Maureen released there first album "Sidiosynchrasies and Hallucinations" . In addition to Richard and Maureen, the largely acoustic album, included bassist and cellist Greg Spillman and the late great Blake Travis on Conga, with special guest appearances from friends Luce and Richie Myers. The album consists of original songs ranging from haunting, beautiful, and inspiring such as "Ice Cube's Chance in Hell" and "Anyone who Hears"; to irreverent and silly, such as "SPAM", "Road Kill Blues", and "Life's Just Something to Do (while you're drinking beer)

1990 - Bliss Hippy began in the Missouri Ozarks in Rolla, MO as "Sidio and Hall", and consists of Richard and Maureen Hall, with various other musicians serving as enablers for the duo over the years.

When they aren't playing music, Richard hangs out at Missouri University of Science and Technology where he is a Professor of Information Science and Technology and Maureen enjoys her retirement as a Doctor of Chiropractic and Medical Acupuncture, although she still provides energy healing sessions at home and while out on the road. Much of the rest of the time Maureen and Richard find themselves walking through the Ozarks woods or floating on Ozark streams, often bringing a banjo and fiddle along to serenade nature, as they age peacefully and happily.